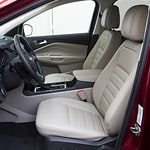 At Tyler Ford we are proud to share the Ford commitment to driver safety. This commitment is apparent in the Ford Escape. This popular crossover uses the latest technology to provide improved driver awareness tools that may help lower the risk of a collision.
Each Ford Escape SUV has a Pre-Collision Assist feature that includes automatic emergency braking. When the Escape's sensors detect the presence of a pedestrian or other vehicle in your path, a visual and audible alert is used to warn you. The Escape will automatically brake if you are unable to take corrective measures. Doesn't your family merit this kind of safety technology? We think so.
Please accept our invitation to schedule a test drive of the Ford Escape at our dealership here in Tyler. We will take time to explain all of the Escape's cutting-edge technology, and also give you the information you need to make an informed decision.