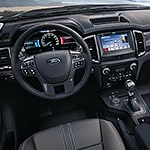 As a popular midsize pickup truck, the new Ford Ranger has the design features that new pickup truck buyers prefer. Find out what these features are and how they are designed to maximize the truck's function and convenience.
For example, the new Ford Ranger is available with a variety of accessories that make driving your pickup easier and more fun. You can get it with roof rails on which you can attach different gear. It can be used for hauling a kayak, for example, or attaching skis.
The new Ford Ranger also comes with 17-inch four-wheel-drive tires. However, if you want to make your Ranger optimally suited for off-roading or driving out into the wilderness, you can also equip it with 18 to 20-inch wheels. These tires allow you to take your Ranger beyond just city roads and highways. You can get them from our local Ford dealership.