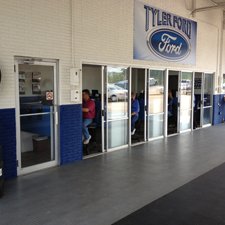 Service Your Car, Truck, or SUV at Our Ford Service Center in Tyler, TX
If you're like most people, you probably find vehicle maintenance and service to be a hassle. The good news is that our Ford Service Center can take the headache out of having to complete these items and have your vehicle back on the road, quickly. With routine service and maintenance, you'll help to extend the life of your vehicle, prevent costly repairs, and keep your vehicle's warranty active, if applicable. Our Tyler Ford dealership offers packages to combine our most popular services to save you time and money.
Items that Need Routine Service and Maintenance
If you have any dash lights illuminated that indicate that you need service, it's best to schedule an appointment with our automotive service center right away. In most cases, taking care of issues right away will help prevent vehicle breakdowns and the need for roadside assistance. Having to take time out of your busy day to wait for a towing service or assistance is never fun, no matter how prompt the service is. We'll be able to diagnose the problem and take immediate action to correct it for you. If your vehicle is under warranty, chances are the service won't be at any cost to you.
Safety items should also be checked right away to prevent malfunctioning in the event of an emergency. Airbag warning lights and antilock-braking system (ABS) warnings need to be checked out right away. Even during normal driving conditions, deferring maintenance on these items can lead to unpleasant consequences, including preventable accidents on the streets of Lindale.
Seasonal Service to Consider
At the change of a driving season, it's a good idea to review your maintenance records to assess any seasonal items that may need to be replaced. Tune-ups and other servicing requirements should be kept on schedule to ensure your vehicle always runs at peak performance on the streets of Brownsboro. You could also maintain your car's fuel-efficiency and help to keep your emissions levels right where they should be. Other items to consider checking at the change of a driving season or any other change in driving conditions include:
Tire rotation and seasonal tire replacement
Brake pad replacement and checks
Oil changes as specified by manufacturer recommendations
Air and cabin filter replacement
Replacement of belts and hoses
Alternator, battery, and starter checks and replacement when necessary
Schedule an Appointment with Tyler Ford for Auto Service
Our Ford Service Center takes pride in providing you with the highest quality Ford technicians that'll treat your vehicle like as if it were their own. You'll receive an estimate upon request and they'll gladly answer any questions that you may have. You'll be able to enjoy the amenities provided by our dealership and you are welcome to bring your family. Your satisfaction is our top priority and you'll see why so many of our customers from Tyler, TX recommend us as their favorite Ford Service Center. For your convenience, we have hours that work with nearly every schedule and we'll work with you to get everything taken care of in a timeframe that's reasonable.
Ford Service Center Repairs
In the unfortunate event that you need repairs on your vehicle, we'll do our best to get you back in your vehicle as quickly as possible. Our technicians can handle minor and major repairs and will keep you filled in with updates. We have instant access to most Ford OEM parts and supplies to repair your vehicle the right way. You'll also be covered by using our service center if you're concerned with the vehicle's warranty. Getting the job done right the first time is how we operate. With many years of experience in Ford repairs, our technicians are experts and will provide you with the highest level of service.
Save Even More with Our Service Specials
Our dealership is happy to offer you parts and service specials and coupons that'll save you a significant amount of money on maintenance, service, and repairs. Get in touch with Tyler Ford to schedule your auto service or use one of our convenient online scheduling options. We'll provide you with our top-level Ford service.